$3.50 flat-rate shipping (to U.S.) • 10% off orders over $100 • 15% off orders over $200
There are 1250+ products posted on this site.
Orders are shipped in 3-5 days. Please click here to read about shipping times.
Sale -- 15% off
Purebeads is selling off its remaining stock with
the expectation of closing in approximately 2025.
Thank you to the customers who kept me in
business for eighteen years.
Important note about viewing pictures on the internet:
AOL and many other dial-up services (especially those that advertise themselves as fast or "accelerated") use graphics compression to make pictures and web graphics load more quickly. Compression, however, causes pictures and web graphics to look blurry. If all of the graphics you see on the internet look slightly blurry, please contact your internet service-provider to find out how to turn graphics compression off. If you don't turn graphics compression off, you won't be able to appreciate the quality of the pictures on this site.
Privacy Notice:
No private information that is given to Purebeads by customers (such as their names or addresses) will ever be sold or shared with any other company. Furthermore, Purebeads does not have access to your credit-card information. Payments are processed immediately by a credit-cart processing firm, and that information is never given to Purebeads; nor is it stored on this web site. If this site were to be hacked, your credit-card information would be safe.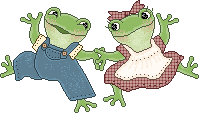 Cat and flower by Calej World
Dancing frogs by Graphic Garden
Contents of this site copyrighted © 2014; all rights reserved.